Colin Gibson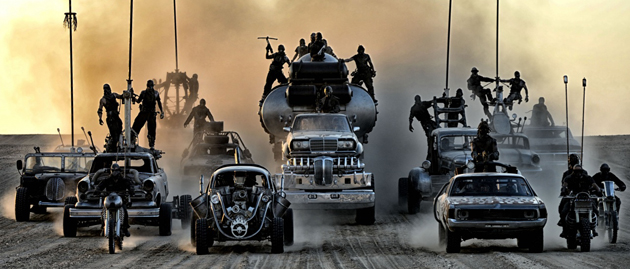 and everyone who knew how they went together tended to be Australian, the bulk of the crew was Australian. But of course we hired Namibians, South Africans, some terrific English mechanics. We did have six or seven hundred people on set many of the days and were shooting in two or three different locations at a time. It was quite a big enterprise.
 
AS: Going back to long before you were working with these crews of seven hundred, how did you first get started in the field of production design?
CG: Some of us start out going to art school and some of the rest of us happen to be failed actors whose children start screaming for bread and shoes!
AS: You were one of the actors?
CG: Yes, I used to pretend I was waiting for my big break but no matter how tight the sweater I wore it still never happened, so fortunately there's been enough work in the art department to keep me going!
AS: Did you go to a theater school rather than art school?
CG: I did go to a theater school while I was at university, trying to find a way out of university once I discovered that it wasn't like school. In philosophy class you go to all the trouble of learning I think, therefore I am and then you go back next week and some other philosopher's got some completely different theory. I needed to find something else to do and I did part-time acting classes and worked as an actor for a few years. I discovered that most of the places that I worked at as an actor I was also taking over the sets and the lighting and occasionally the production itself.
I found myself schlepping international shows around festivals in Australia and New Zealand and sort of redesigning them and repackaging them and that ended up being my new life. And then one time I took a beautiful Yugoslavian company to Melbourne as an outdoor show and it rained for two weeks straight and I was losing a fortune. I called an ethnic television station that had just opened in Sydney called SBS and asked them if they'd like to come and shoot. We had a free weekend before we opened in Sydney and I was in need of making some money. They came down and not only did I have great fun but I also made more money on that weekend than I had been making while schlepping thirty Yugoslavs around the Southern Hemisphere. Two weeks later I was offered a job as a props guy, not really knowing what a props guy was. It involved a cruise ship, Love Boat in the Pacific, and there you go- the rest is history.
AS: Were you working as a propmaster or assistant props?
CG: It was called Stand-by Props in those days, which meant you were standing by on set. It was unfortunate in the early days because I had a tendency to call Cut! whenever anything looked bad and while working on Love Boat a lot of things looked bad. I eventually broke myself of the habit of yelling Cut! to