Grant Major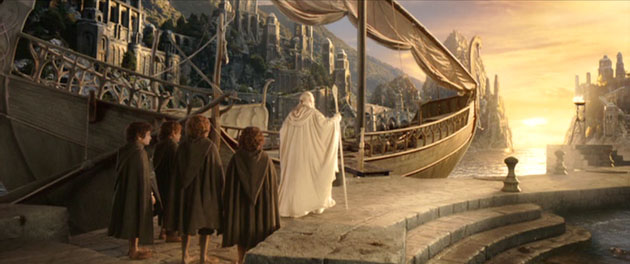 There's a certain thrill in making big sets and doing these big production-design set-ups. It's great because we have huge teams of people working with us and under us. It's a thrilling way to make a living. On the big films you have a lot of more technical toys to play with. The vis effects work and special effects work are amped up so it's a greater roller-coaster ride.
AS: How closely do you work with the visual effects team on a film?
GM: On Peter's work we all know each other because WETA's workshop is literally just down the road from the film that's being made. It makes it very comfortable. I've known a lot of them for years and years so I can't help but work closely with them. On these more modern projects like Green Lantern it's a separate contract to the film. They were more divided because SONY Pictures Imageworks was across town. But we had one of their supervisors doing standby visual effects work on set every day.
I do feel there is a problem with post-production work going on after the production designers leave the show. I want to be able to move on to vis effects after the film and personally follow though on designs that are being done. Because such a lot of the film's design now happens in this vis effects world. It's kind of awkward leaving something like that to someone who can do whatever they want after me. I prefer having control.
AS: With Lord of the Rings was it the case that the visual effects went on for months after you left?
GM: That was the case. It's not good being away but it was such a long project with such a lot of pickups in the latter stages that I was moving very far away from it anyway. I knew a lot of those vis effects people and I knew that it was all in good hands. Also, WETA was a great place to just go in and have a look at how things were going. And Peter's a very visually-oriented guy. He never gives it away completely to a vis effects house.
On King Kong I had a visual effects art department, which is a step up from The Lord of the Rings arrangement. We had a little art department in WETA Digital and we were still designing things during that post-production phase. I was able to keep up with what was going on that way.
For example, a lot of the virtual New York sets that we did for King Kong had a lot of graphic work on them. Sign writing and everything New York used to have back in the thirties. A lot of that was going on during that post-production phase. It worked out quite well having an art director in there.
AS: You mentioned that Peter Jackson is a very visual director. Does he follow the designs being developed in the early stages?
GM: He's very refreshingly collaborative. He's really into listening to what people think. For example, he'll often have little competitions with pre-vis artists to come up with great little action sequences that help tell his story. But at the same time he's the last word on all the artwork that we produce and everything is done to present to him. He also has a very, very long memory. It's incredible considering the length of time that these projects take to design. He remembers things he's told us a year and a half ago. He's both collaborative and also a micromanager of all aspects of the film.