Grant Major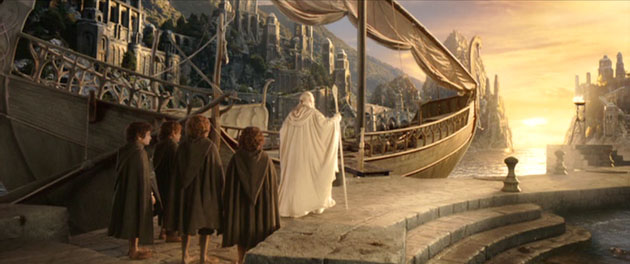 We're not creature designers but we had to do it for the sake of knowing how it interacted with things. It had direct implications on how we built the boat, and how the boat was all geared up to tip over. We also built a big Meg head piece that was suspended on the back of the boat.
AS: And you constructed water tanks for these sequences to be shot in?
GM: New Zealand at that point didn't have a water tank for filming. We looked around a lot of coastal areas to see where we could put it but because we would have had to commute too far from Aukland we ended up building it in our backlot. And we built a huge greenscreen wall behind it. We built the whole thing from scratch. It's still there actually! Avatar II used it a little while ago. We also built a huge indoor tank for all the underwater sequences. They had to be built because we needed access to the top, access windows through the bottom of the tanks, and we needed to be able to get all the way around the tanks to be able to light them. We also had to be able to control the temperature for the actors.
AS: Any advice for a production designer who has been designing smaller movies and then suddenly gets to design a film with a huge budget?
GM: An equal amount of creativity goes into a big-budget film but the organization and the stamina is different. Small movies tend to be fairly short and sharp in terms of the prep and the shoot, because of the budget. You don't tend to travel far from home. On the big shoots you have to be able to take on the right people to be able to divvy up the work load. The supervising art directors are great at organizing studios and taking on crew. On a small movie you do all that yourself. On these big, sprawling movies you need to bring on more crew and you have to be prepared to travel. You have a lot of different jobs going on in different parts of the country or different parts of the world. So you find yourself commuting a lot more between these places. You have teams of people here, there, and everywhere. There are a lot more logistics involved, in terms of getting on top of mountains and out into the middle of lakes. The canvas is way bigger with more interesting and extreme environments. You need to be able to focus on just the most important production design elements and then bring on people who can take the weight of the organizational side.
AS: Often I'm impressed with the sheer number of art directors on bigger movies.
GM: You have to divide up the film, don't you? On Mulan, for example, we were splitting ourselves between the studio and China and the South Island of New Zealand. We had three geographical areas that we were working in. And then within that there were big sets to be built at various places so I had a different art director dealing with each of those areas and within those areas, assistant art directors doing specific things.
AS: What was your experience working in China?
GM: It was interesting. They have quite large backlots that all specialize in particular time periods for their movies. Our film was based in the Tang dynasty so we were looking at the Tang dynasty backlots. But the backlots over there are not exclusively for filming. They often have them as theme parks and it's a way a lot of the Chinese learn their own history.