Patrice Vermette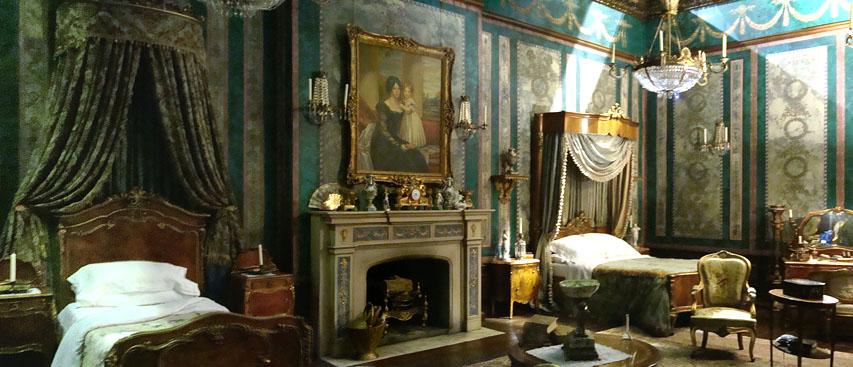 AS: How have things changed since you were nominated for an Oscar®?
PV: My life is not really different so far but I hope to have access to good stories.
I'd like to be able to do more films in the budget range of The Young Victoria. More like There Will Be Blood, Crazy Heart, Boogie Nights. James Gray material. Good stories, good films, great film makers. Those are my heroes as opposed to the Michael Bays. Those are the types of films that I really want to do.
AS: People are talking about how a lot of films are going in the direction of the green-screen. What are your thoughts about working with visual effects?
PV: It's a great tool. For instance at Lancaster House where we shot the ballroom scene after the coronation in The Young Victoria, the room was pretty darn big. We had a lot of extras but we needed to make it more impressive. So that's when visual effects comes in. Let's double the size of that room. Let's triple it. You bring references. Let's hang that picture on that wall there. There's good teamwork with visual effects. For Westminster Abbey it was impossible to shoot a real coronation so we did it on green-screen.
Visual effects is an essential tool in moviemaking right now. Another good example is what Sarah Greenwood did with Sherlock Holmes, you know, with set extensions. I saw the latest Tim Burton film over the weekend, Alice in Wonderland. I consider it really amazing production design. [See PD Robert Stromberg interview] I think all types of film will still exist but with visual effects you can go the extra mile. Instead of showing just a quarter of the street because you only have enough money to dress that much well, you can shoot a bit wider and say, Hey, let's have the rest.
For example, it would have been impossible for the production to shoot the exterior we needed in Bavaria where you see mountains with a bit of snow on them so we added those mountains in post production.
There was also a scene that was supposed to be taking place on the Isle of Wight and I looked at Jean-Marc and said none of the locations we have are next to water. But when we were walking in the parking lot of a castle we realized we could actually shoot that scene right there. There were flatlands and a bit of mountains so we kept the mountains but we replaced the flatlands with water, in post. So that's why I can't stress enough what a great tool it is.
AS: What advice would you have for production designers starting out?
PV: There are two ways. You can start out being the apprentice and production assistant and go the feature film route. Or you could go into music videos. That route goes faster because you shoot different projects and you meet different directors. And every director in music videos and commercials has a hidden script somewhere that they want to write eventually. They all wish that eventually they'll be recognized as feature film directors as opposed to commercial directors. They all dream of that. And by meeting these people on commercials and music videos eventually you're going to make a good connection. You're going to meet a guy like I did with Jean-Marc Valée.