Patrice Vermette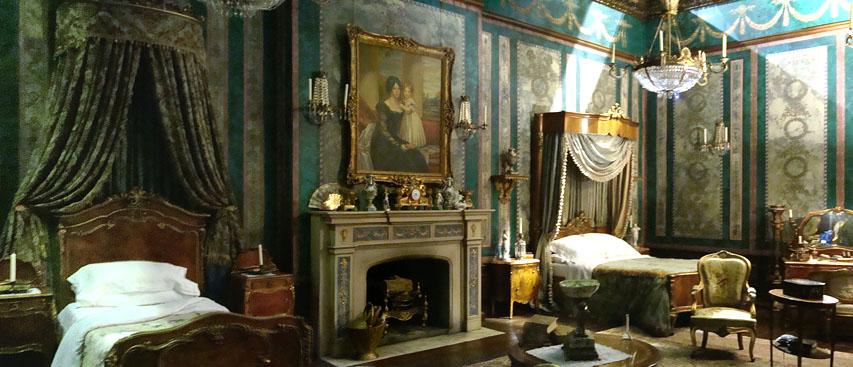 You also have to be able to say okay, I was wrong. And at the end of the day it's the director's film. Good producers are also intelligent and have some ideas. They will bring another dimension to the film, they are people who will listen as well. Good discussion in preproduction solves so many things. You can never emphasize that enough.
AS: What was it like working with set decorator Maggie Gray on The Young Victoria?
PV: She's got a great sense of humor. We're a great team because we're both intuitive. She knows when it's time to push for an idea and to when retreat. We're a good team because in discussion with production we'd always be on the same page. It was just wonderful. Maggie has so much experience and I was lucky to have someone like that willing to work with me. She's done all sorts of films. Obviously she did the set decoration on Brazil but she also did a smaller film called the Life and Death of Peter Sellers. And when I saw that film I just related a lot to the design and the set decoration in it. Hopefully Maggie and I have many years together in the future.
AS: You mentioned on the ADG Production Design panel that one of your earliest design inspirations was Star Wars.
PV: My dad took me to see Star Wars when I was seven years old. His dream was for me to become a lawyer like him, just to follow in his footsteps like every dad, but his mistake was to take me to see that film! From that moment on I knew what I was wanted to do!
Remember the Star Wars figures? My parents had an unfinished basement and a bit more than a third of the basement was my Star Wars world. My parents said, The basement is unfinished and you can do whatever you want with it. I had a lot of cardboard and scale models. Whenever my parents had their friends over for supper they took them downstairs to show them my Star Wars world!
During the same period I was very influenced by KISS as well, that theatrical rock. My parents took me to see them in 1979 when I was 9 years old. That was production design from a kid's perspective.
AS: How is working in Canada different from the States?
PV: It's very different because our films are a much smaller budget. You have to wear many hats when you do a film in Canada. What I really enjoyed about England is you can concentrate on your real job. Because in Canada most of the time you're your own set decorator and your own art director. Sometimes you have to do a bit of painting and carpentry. You have to because otherwise the job won't get done. You can sit on your ass and say, I like the location as it is, or you can go the extra mile. You don't have time to do that? Okay, give me the tools, let's start rocking. It's good. The industry is a lot more artisan. So you touch a lot of things as opposed to the big business where you only do the vision and simply oversee every department under you to make sure that they follow the vision. You do that as well in Canada but sometimes you have to go the extra mile.