Adam Stockhausen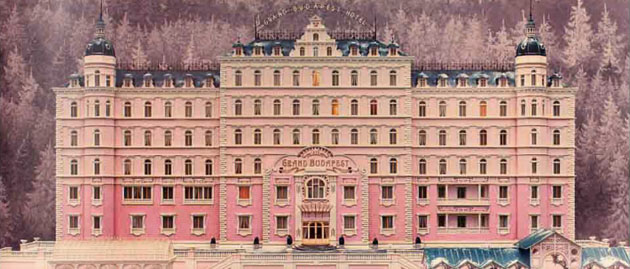 AS: Does he get to the point were he's like, This is not the right mauve?
AS: He's extremely involved in every detail of it. We'd discuss the exact shade of pink for a very long time. And then there are other elements that we'll have just one discussion about. Other things we'll have fifty discussions about.
AS: You guys jumped back and forth with the miniatures on that one. How involved were you with the miniature builds?
AS: We had a separate miniatures construction team led by Simon Weisse and Frank Schlegel. Jeremy Dawson, one of the producers on the film, oversaw the whole operation. My guys in the art department would draw it up and do draftings and then we'd hand it off to the miniature shop who would build it just like the full-size shop would build the full-size scenery.
AS: Do you do ever any sketches yourself? Do you have an art background?
AS: I do have an art background. When I have time I'm extremely happy to get on a drawing board and be sketching. Reality being what it is I end up not doing as much as I would like to. I was a set designer for theater and worked for a while in New York as a freelance set designer for regional theater and opera and that was great fun. In theater you're doing all your own sketches! And all your own drafting. It was because I was drafting that I came into the movie business. I started working in the art departments just doing a couple days here and there drafting.
AS: Dante Ferretti designs a lot of operas and has always gone back and forth.
AS: I haven't quite figured out the back and forth part yet! But that would be a lot of fun.
AS: After starting to do movies have you ever gone back and done any theater set design?
AS: Well there was an incredibly difficult year and a half or so of overlap when I unexpectedly started working full-time in movies. I was working on the movies during the day and then I'd go to my office and work on my theater shows at night. I still had this full calendar of set design work to do. That was a rough year -but I survived it!
It's very difficult because the theater projects book so far in advance. They say, Hey, we'd love you to do this set a year from now. And it's difficult because you want to say, I would love to! … but a year from now I could be in who knows what country and it's going to be a little hard to get to the technical rehearsals. I've done that a couple times and it works out but it's very difficult.
AS: How did you first get into the film side of it?
AS: I was living in New York and I had some friends who I'd gone to school with who were working half in films and half in theater and I called them up. In particular Suttirat Larlarb, who designs now for Danny Boyle. She and I were pals and she brought me in.