Guy Hendrix Dyas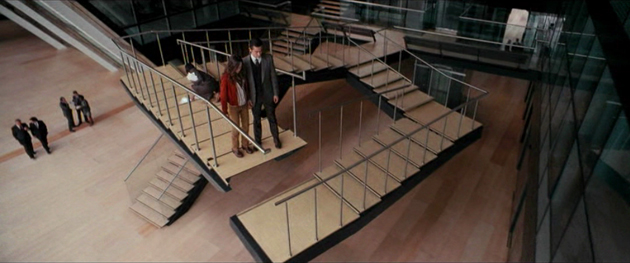 AS: Do you tend to always work with the same crew ?
GHD: I like to work with the same crew whenever possible but sometimes schedules and distant locations make that difficult. However what I always strive for in the art department is a great mixture of talents, skills and experience. Generally it works well to have seasoned crew working with younger artists, there's a nice exchange that happens.
AS: You studied art at the Royal College of Art in London and Chelsea College of Art and Design –is art school a good start for an aspiring production designer?
GHD: People in films seem to come from all walks of life but in my case art school was very useful, if only for the fact that I can draught, sketch, paint, sculpt and make models. These are skills you learn at art school and probably wouldn't have learned in a film school. Learning those basic skills allowed me to have a good foundation for a future in Production Design even if at the time I was very focused on Industrial Design and Architecture. It's only when I got accepted into the Royal College of Art that I became aware of the film department and started learning about film making and volunteering on student film projects.
AS: Do you still do illustrations for your movies?
GHD: As much as possible because I enjoy it and it's such a great communication tool. Sometimes my schedule means that I have to do my own illustrations during off hours but it's always worth it as it enables me to quickly show a director an idea and then be able to hand off sketches to an art director. I guess the only thing nowadays is that I rarely have the time to take my illustrations into color, I mostly have sketch books filled with pencil drawings.
AS: You went from industrial designer to visual effects art director to concept artist to production designer –how did this transition come about?
GHD: The transition from Industrial designer to visual effects art director was probably the most intimidating for me because it meant taking a leap of faith and joining an industry I knew very little about. It meant leaving a career path that I was starting to forge for myself in industrial design in Japan but l was in my twenties and when the opportunity came along to join ILM it seemed worth the risk.
AS: What's the first thing you do when you get a new script of a movie to design? Do you do a lot of research?
GHD: The first thing I do is I start sketching, actually I start a new sketchbook for every film as it's the easiest way to keep ideas organized. Research is very important to my process as well but it usually comes into play slightly later, when we have an art department set up and are starting to put presentations together.
AS: How closely do you work with the DP?
GHD: Very closely, creating the look for a film is really a collaboration between the director, director of photography, myself and the costume designer so the sooner you can start the exchange process, the better. DPs don't create the production design but they do shoot it, they are a designer's biggest ally.