David Warren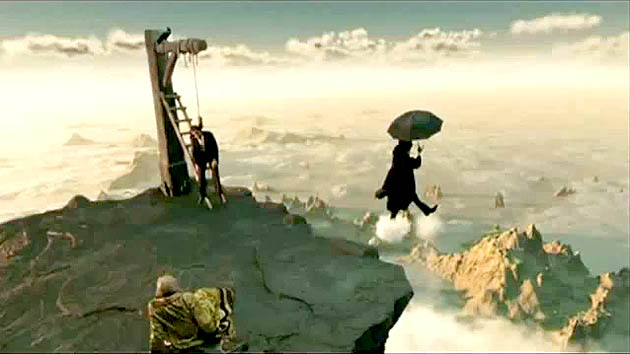 Tim was very interested in seeing what the big oven looked like underground, what sort of door that Mrs. Lovett gets pushed into in the end. Tim was like, I want it to be this big, I want the door to be that shape. He's interested in certain things and then other things he's like, Just make it like the city of London -that will be fine!
AS: What was your background? Did you go to art school?
DW: Yeah, I went to art school like I suppose everybody does. In my third year at college I did a course in illustration and I had to do a thesis, a written dialogue. I knew Terry Gilliam from Baron Munchausen and the Fisher King so I based it on Terry. In the back of your mind you're sort of thinking, I wonder what it would be like to have a chat with him. I went to my thesis teacher and he said, Well you haven't got a cat in hell's chance. But don't worry about that just write your thesis you'll be fine. A guy I was working with said, No, no, you've got to interview him. Of course you have.
So I did write him a letter and eventually he got a hold of me and said, Yeah, yeah, I can spare you an hour. In the interview, which I still have a tape of somewhere, he said, Well, what are you doing? And I said, Trying to be an illustrator.
He said, I'd love to see your stuff. So I went and visited him, I brought my work to his place in Highgate and it was like nothing more came of it. Great, really interesting stuff. Well, a friend of mine's putting together a film. We might need storyboards -we'll bear you in mind.
It all kind of went dead and I went back to my day job. I was working in North London doing odd jobs just to keep some money coming in. Then eventually out of the blue he called up and said, I'm doing preproduction on a film called Defective Detective. I've got a designer obviously but I need somebody in here to help make some models and things like that.
So I went and worked for him in Camden Town for four weeks. The designer he had was Dante Ferretti. Dante had already started working for him doing sketches. Lovely to just spend four weeks working with Dante, just watching him draw. At the end of that Dante looked at me and said, This film's never going to happen. Although he loves Terry he knows how difficult it is and he said, I'm going to go do something with Neil Jordan, maybe I'll call you and two weeks later he did.
I got on my first feature film as an art department assistant or as you call them in LA, PA's. You're running around printing drawings and making tea. But on that first movie you learn more than you can learn at college. You learn how a film gets made. I did three movies back to back like that.
After Dante I did four or six weeks with Roy Walker who was doing the Scarlet Letter. I was making tea for him and also making little models and bits and pieces. At the end of that he said, Right, I'm off to Nova Scotia but John Box is coming in here. I'll have a word with John. The next week John comes in and he says, Right, you're coming with me. And that was that. That's how I worked with those three guys at the beginning.