Lee Ha Jun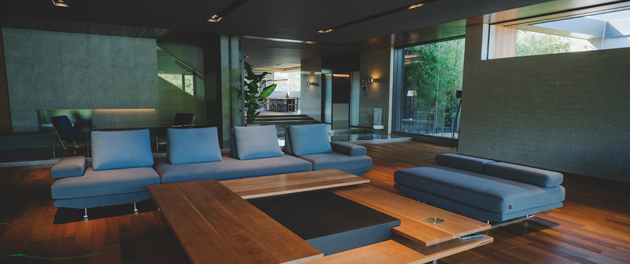 AS: You also worked with Bong Joon Ho on the movie Okja. Were you involved in the CG animal design?
LHJ: There was a character designer who worked separately. Looking at several submitted design options I helped to improve and finalize the design in discussions with the director.
AS: How was your process working on Okja different from Parasite?
LHJ: For Okja, the principal photography was in the US. For those of us who are used to the Korean system, it was a very unfamiliar experience. Every crew member had a very specific profession and predetermined hours, and the set was full of blue screen. There were so many things to learn.
Meanwhile, Parasite was built practically from beginning to end. It was an impressive depiction of a very authentic Korean subject. One will be able to use the film to look back and study current Seoul and see the reality of Korea today.
AS: How did you get into production design? Did you go to art school or film school? Have you always been an artist?
LHJ: I graduated from Korea National University of Arts, and majored in Stage Art. At the time I worked on the set design of plays, musicals and operas. Then I took part in a senior's film thesis. That was when I was blown away by film production design. I remember that I was treated as an outsider when I worked in film for the first time. This made me work even harder.
AS: What do you like about designing movies?
LHJ: Visualizing a script for the first time is exciting. It's also a job where you can really leave a mark in history. There are classic films that are still honored today and I imagine one day my work will be included among those classic films. I do my best to make my own mark.
AS: Do you always work with the same crew?
LHJ: Yes, my crew has worked with me for five to six years in average. The longest one has worked with me for ten years. They are family rather than crew for me. We know each other very well, encourage each other and enjoy working together.
AS: What characteristics do you need in your art dept crew?
LHJ: While individual technique is important, I believe the basic mindset of collaboration is the most important characteristic for my crew to have. There is a separated division for 'Art Department', but the entire film crew collaborates. Directing, Producing, Photography, Lighting, Props, Costumes, Make-up, and so on. Many different teams need to think together and figure out what's best for one film. There should be a lot of communication, collaboration, and compromising if needed. Within the overall team, we lead and follow each other to visualize the film as written.